Welcome to the Madeon Wiki!
About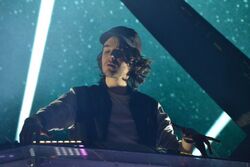 Hugo Pierre Leclercq
(born 30 May 1994), known by his stage name
Madeon
, is a music producer from Nantes, France. He initially gained popularity by means of his video and mashup "Pop Culture", which was published to YouTube and subsequently received millions of hits in its first few days of broadcast on the Internet.
Read more >>>
Getting Started
If you are new to the Fandom network, please familiarize yourselves with the
Terms of Use
and read through the available
help guides
. However, if you already have editing experience and have a relevant article you want to contribute, use the box below to create it:
Ad blocker interference detected!
Wikia is a free-to-use site that makes money from advertising. We have a modified experience for viewers using ad blockers

Wikia is not accessible if you've made further modifications. Remove the custom ad blocker rule(s) and the page will load as expected.